Giving Back is Who we are
WANT TO VOLUNTEER WITH US?
You don't need to be an Nyla employee to give back! Please join our mailing list and stay in touch about volunteer opporutnities. We are always happy to have others join.
Every year the students have changing needs in their resources and Nyla quickly adjusted to support.
In 2020, COVID made school-at-home a reality for children all across the United States, but what happens when the children you are educating don't have a laptop and/or even access to the Internet? Nyla with PCs for People provided 45 Chromebooks and 150 T-mobile hotspots
Because not all schools have access to equal resources, we provide backpacks filled with all the traditional school needs: notebooks, pencils, pens, scissors, and glue.
After a rough year of school-from-home due to COVID, children were thrilled to get back to the in-person class room and explore their creative sides. Musical instruments and art supplies were in full demand and that demand was met!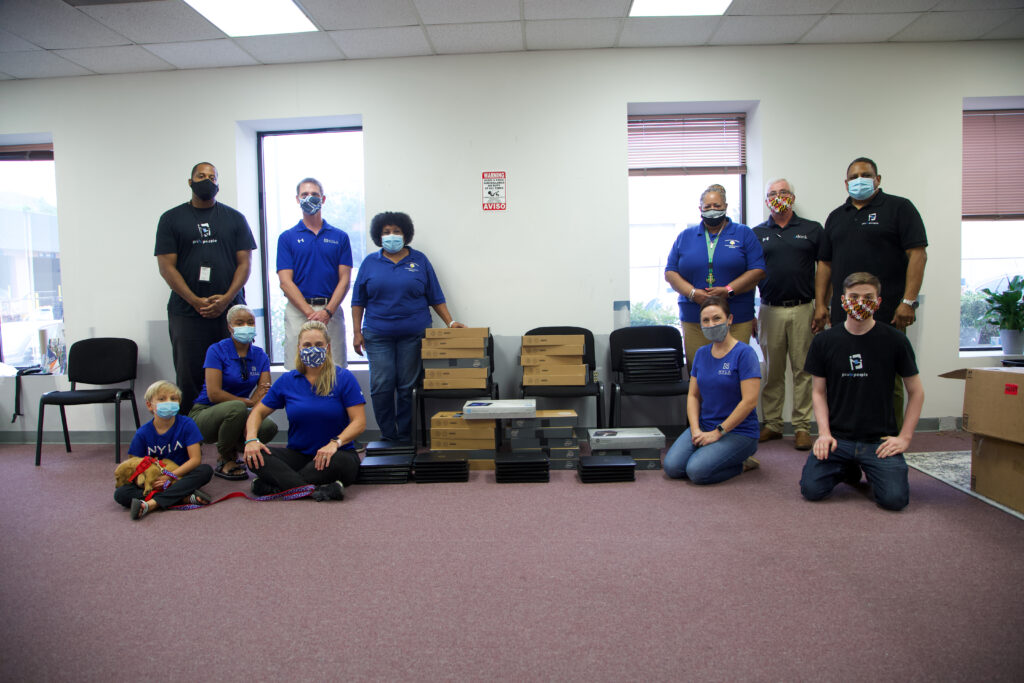 Sometimes We Get a Little Creative
In 2019 we did not have the resources or time needed  to plan a full -scale, in-person chili cook-off, and so based on an out-of-the-box suggestion from a summer intern, we came up with the  Pie-in-the-Face fundraiser. We asked people to vote with their dollars. All of the Nyla exec team up for getting pie'd. In the end it was a close race. Lots of people voted for Brian, and there was a last minute $800 donation to Amanda, but in the end, Shana 'ate' it. Runner-up Amanda had the pleasure of smushing it all in. Watch the video below that captured the historic moment.
Every year, the week of Veterans Day, Nyla raises money for the nonprofit, K9s for Warriors, whose mission is to end veteran suicide and return Warriors to a life of dignity and independence. K9s for Warriors rescues and trains shelter dogs to become service dogs for warriors with service-connected Post-Traumatic Stress Disorder (PTSD), traumatic brain injury, and/or military sexual trauma.  They are the largest provider of service dogs for disabled American veterans. Together we can help STOP the 20 veteran suicides that occur every single day.
Nyla supports a wide variety of employee charity interests from building with Habitat for Humanity, preparing bags for Baltimore's homeless, making dinner for Ronald McDonald House, and/or running in the annual AFCEA 5k. Those are just a few examples. However an employee wants to give back, we support it!