Season 4: For the Back of the Room • June 14, 2022
Support, Communication, and Simplifying Complex Problems.
Shana Cosgrove talks to Ashley Spurr and Lisa Harris, Co-Owners of Elevare, LLC.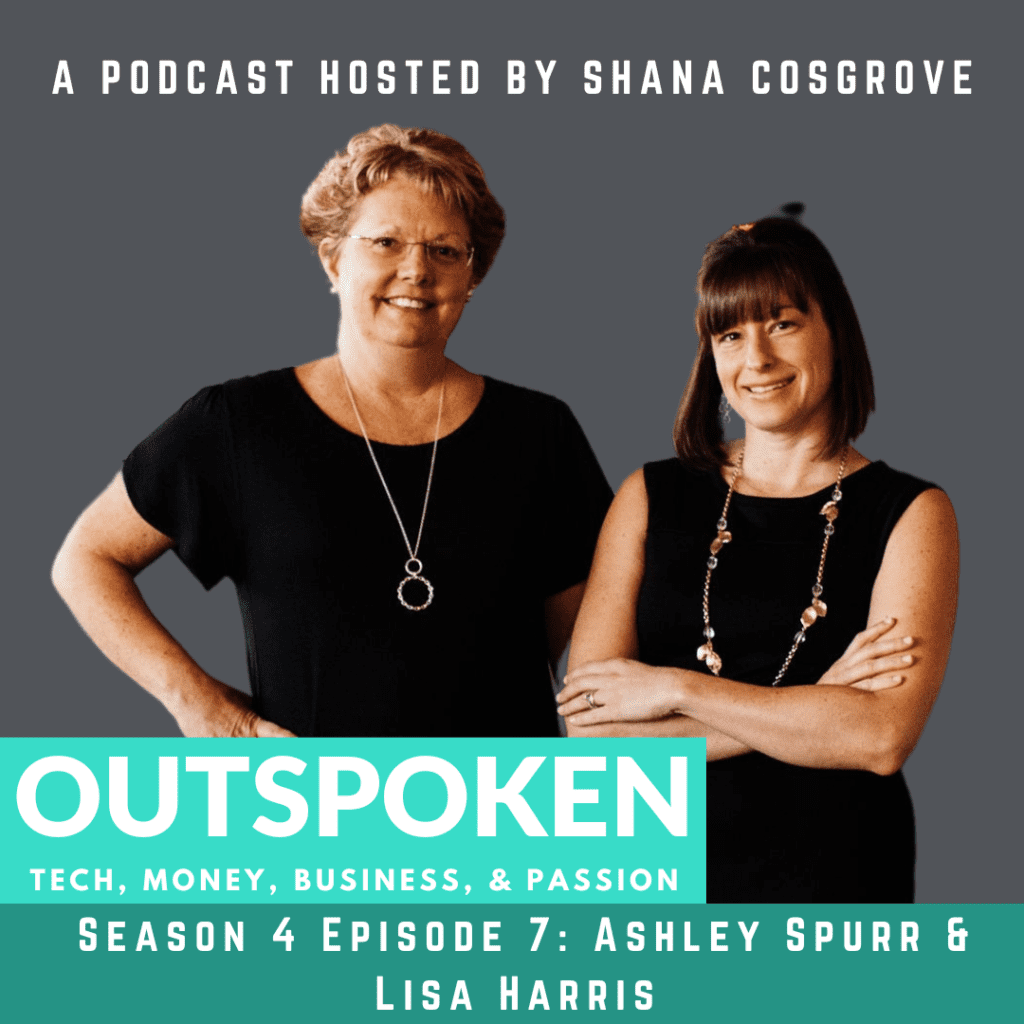 In this episode of The Outspoken Podcast, host Shana Cosgrove talks to Ashley Spurr and Lisa Harris, Co-Owners of Elevare, LLC. Ashley and Lisa discuss starting Elevare and how they landed on the name over chips and salsa. They also explain how narrowing their offerings resulted in a more refined approach for Elevare. Ashley and Lisa dive deep into the world of GWACs, Polaris, Service MACs, and more. Finally, Ashley tells us about the many animals she has living on her property while Lisa reveals how she became a Guinness World Record holder.
QUOTES
"They fall into that sales pitch that they're going to have the tool, and automatically poof they'll have a pipeline. But it's not that easy, and that's why the service that Ashley and I offer is so important. We can manage the tool, and we can take it and give them just the opportunities that they should be looking at" – Lisa Harris [12:00]
"I have a list of everybody I have ever talked to on the phone about Elevare's services. And every six months I'm shooting them an email – 'hey, still here, what do you need?' Because that repetition is letting them know that even though you're not supporting them, you still think about them." – Ashley Spurr [28:10]
"The average is 18 months before you win something in the federal space as a prime or sub [contractor], so you have to stick with it. And I think we bring that calmness of telling you 'just stay with it, and it will work out.'" – Ashley Spurr [33:38]
"When you get started, do not skimp on your attorney, do not skimp on your accountant. Make sure you do everything right from the beginning because you don't want to be playing catch-up. Don't start your business first and then go back and try to put all these things in place." – Lisa Harris [46:17]
TIMESTAMPS 
[00:04] Intro
[01:31] Meeting Ashley and Lisa
[06:27] Starting Elevare
[09:00] How Ashley and Lisa Met Shana
[11:48] Getting Comfortable with Business Tools
[15:24] Lisa's Transition from a Full-Time Job to Elevare
[17:42] Ashley and Lisa's Morning Meetings
[18:29] Ashley's Family
[20:07] Refining the Services Elevare Offers
[23:29] Lisa's Family
[24:37] Picking Elevare's Name
[29:22] Landing New Clients
[31:33] What Elevare Offers
[39:25] GWACs
[41:30] Polaris and Service MAC
[43:20] Ashley and Lisa's First Jobs
[44:24] Unique Benefits to a Woman-Owned Business
[47:40] Ashley's Surprising Fact
[49:35] Lisa's Surprising Fact
[51:16] Advice for their Younger Selves
[53:02] Outro
RESOURCES
RELEVANT LINKS
I'd love to hear from you — your feedback is important to me and I read all of it. If you enjoyed the podcast, I hope you'll give us 5 stars. I'll be sure to thank you via email. If not, let me know what you think we should do differently. Don't forget to hit "subscribe" so you'll receive notifications about guest interviews and other topics that drop every Tuesday.
Live well, Shana