Season 4: For The Back of The Room • May 24, 2022
Consistency, Impact, and Versatility.
Shana Cosgrove talks to Benjamin Harvey, Founder & CEO of AI Squared, Research Professor, and Data Science Leader.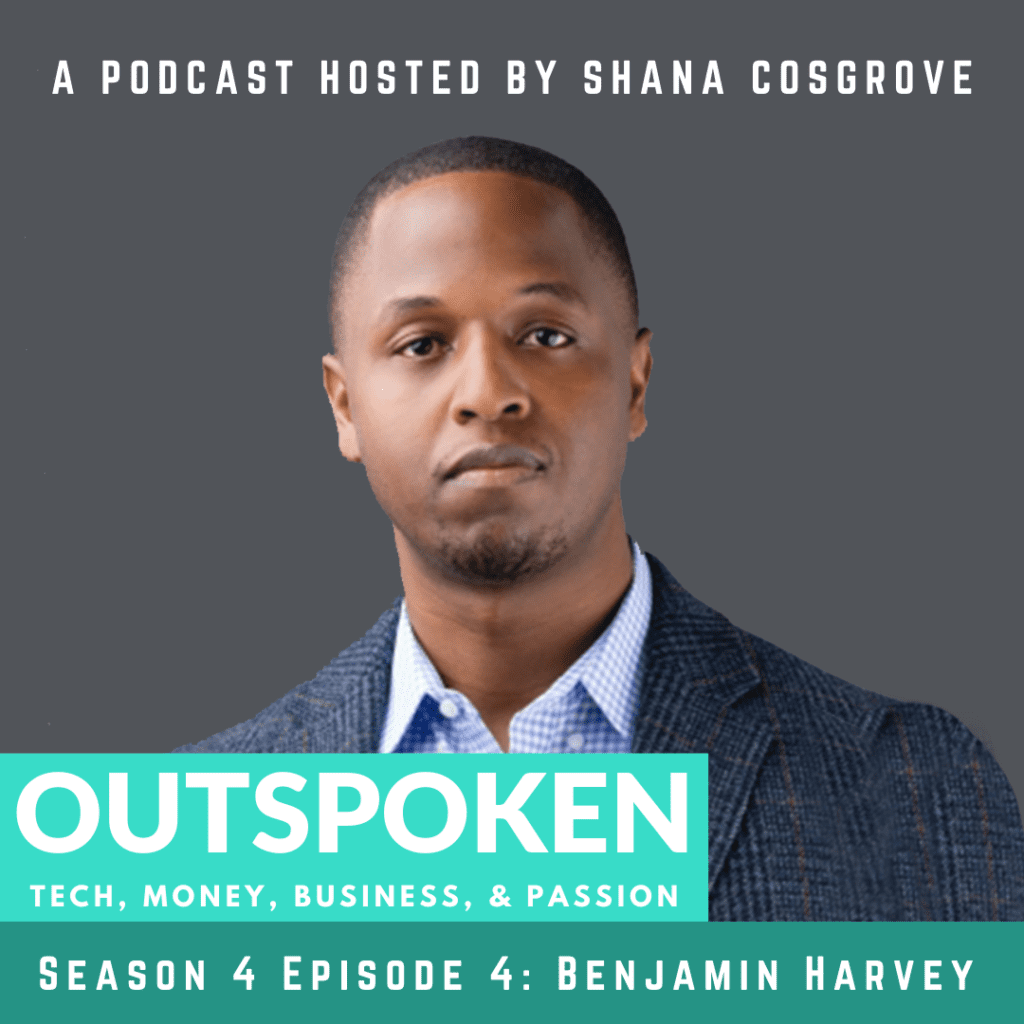 In this episode of The Outspoken Podcast, host Shana Cosgrove talks to Benjamin Harvey, Founder & CEO of AI Squared, Research Professor, and Data Science Leader. He takes us on his multifaceted journey, spanning from Harvard to The NSA to Johns Hopkins University to his most recent endeavor, AI Squared. Benjamin gets technical, discussing everything from Hadoop to Apache Spark to ACID transactions. We hear how Benjamin's new journey as founder of AI Squared is rooted in his discipline and the simplicity of consistent hard work over time. Finally, Benjamin's NCAA basketball dominance is revealed, as he impresses us with his performance against Kevin Love and Russell Westbrook.
QUOTES
"Having that mindset of being focused on helping others, and not having to go back to that environment is really what kept me focused and gave me that grit, those habits to be able to be successful" – Benjamin Harvey [20:12]
"General Nakasone is really focused on figuring out how to even enable folks that are in mission spaces to be able to do tours in industry and then come back. Because the point of the matter is that a guy like myself – I was interested in doing a tour in industry, but I didn't come back because programs like that don't exist." – Benjamin Harvey [30:21]
"How can I leave my mark for the next generation of Ben Harveys that come from similar backgrounds, face similar challenges – how can I take the experiences and the knowledge of navigating through some of these challenges and make it easier for that next generation to be successful?" – Benjamin Harvey [47:40]
TIMESTAMPS 
[00:04] Intro
[01:39] How Benjamin Knows Stephanie Beben
[03:38] Benjamin's Day Job
[05:33] Discussing JHU COVID-19 Risk Tools
[09:19] Benjamin's Family
[11:17] Was Benjamin This Driven as a Kid?
[14:01] High School Experience
[16:35] Benjamin's Scholarship
[19:05] Benjamin's Discipline
[21:24] From Harvard to Bowie
[25:07] Highlights of Benjamin's Time at NSA
[28:24] Why Benjamin Left the NSA
[32:56] Advantages of Spark Over Hadoop
[35:55] ACID Transactions
[38:56] Moving on From Databricks
[41:25] Creating AI Squared
[44:47] Benjamin's Experience as Founder
[46:16] Advice Benjamin Would Give His Younger Self
[47:32] What Does Success Look Like?
[48:05] Benjamin's Favorite Books
[49:13] A Surprising Fact About Benjamin
[50:05] Outro
RESOURCES
RELEVANT LINKS
I'd love to hear from you — your feedback is important to me and I read all of it. If you enjoyed the podcast, I hope you'll give us 5 stars. I'll be sure to thank you via email. If not, let me know what you think we should do differently. Don't forget to hit "subscribe" so you'll receive notifications about guest interviews and other topics that drop every Tuesday.
Live well, Shana