Season 4: For The Back of The Room • May 31, 2022
Persistence, Service, and Making a Difference.
Shana Cosgrove talks to Laura Neuman, Entrepreneur, CEO, and former candidate for Governor of Maryland.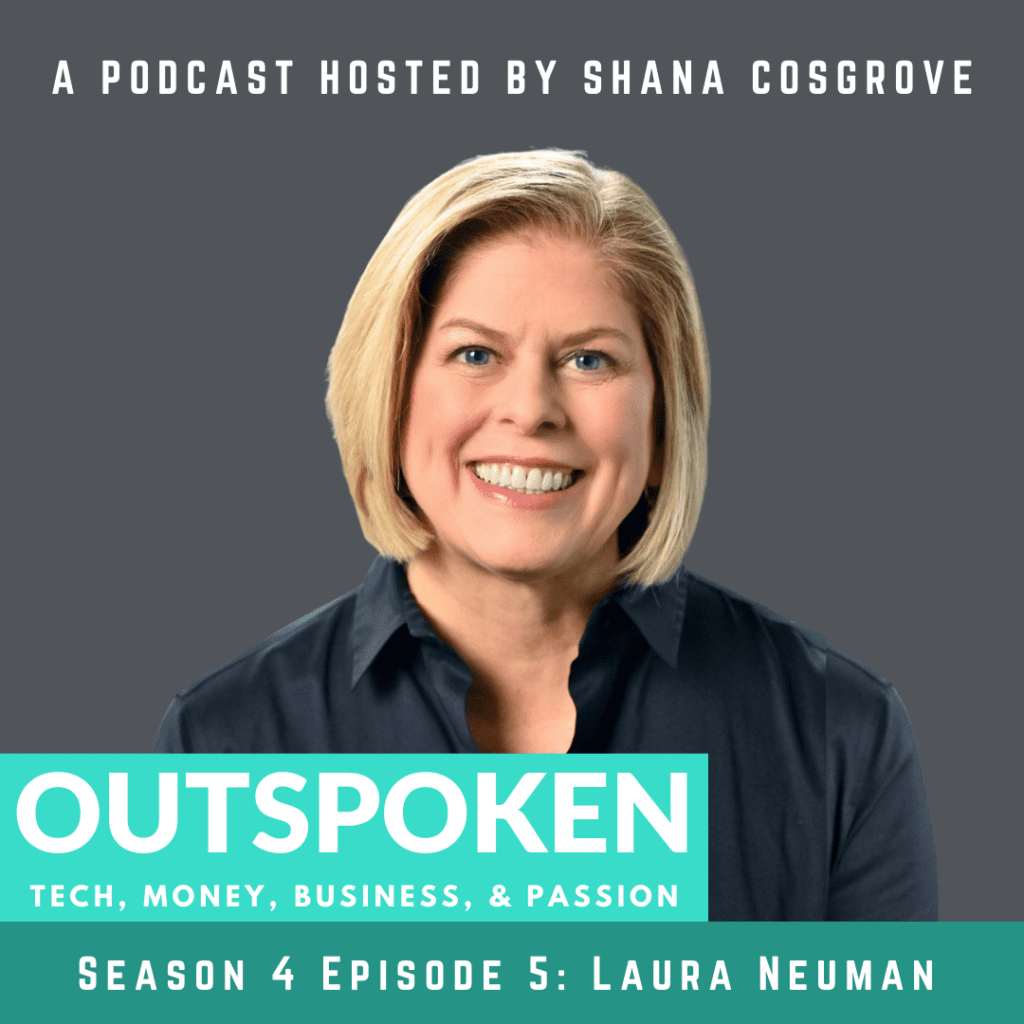 Content warning: This podcast episode contains brief discussions of sexual assault.
In this episode of The Outspoken Podcast, host Shana Cosgrove talks to Laura Neuman, Entrepreneur, CEO, and former candidate for Governor of Maryland. Laura discusses how persistence and a love for work allowed her to leap every hurdle on her path to a career in tech. We hear how Laura turned a difficult experience into a powerful lesson about the importance of equity. Laura explains how reopening the investigation into her sexual assault created positive change not only for her but for countless other women.
QUOTES
"That path just wasn't going to happen for me. I mean I wasn't able to afford college, at that point I was choosing between gas, food, and shelter. And so, college just wasn't an option for me. I did try, and I just couldn't afford it." – Laura Neuman [08:30]
"I actually really enjoy working, I find it fun. And part of the fun for me is the interaction with other people. I get energy from being around people, and so I like that environment of being in an office. But what I really wanted was a path to opportunity – I wanted to be able to build a career." – Laura Neuman [14:01]
"I really, truly thought that I was the smartest person in the room. And then they did their IPO, and I realized in fact I'm not as smart as I thought I was. Because I got all those great perks and I had this lifestyle to go with it, but what I didn't have was ownership." – Laura Neuman [25:12]
TIMESTAMPS 
[00:10] Intro
[01:37] Laura Talks About Raising Children
[02:07] What Motivated Laura to Run for Governor
[06:39] Laura's Experience with the School System
[08:43] Laura's Harrowing Experience
[10:31] Applying for T. Rowe Price
[13:59] Laura Loves to Work
[21:45] Paying for College
[23:14] Early Experiences with Tech Companies
[28:37] What Motivated Laura to Work for Equity
[31:24] The Sale of Matrics
[32:04] Laura Reopens the Investigation into her Case
[36:22] After her Assailant's Prosecution
[43:35] Running for Governor
[46:46] Laura Believes in Tech
[48:45] Discussing Laura's Campaign
[52:07] Advice to Young People
[53:47] Laura's Book Recommendation
[55:04] Laura's Surprising Fact
[56:53] Outro
RESOURCES
RELEVANT LINKS
I'd love to hear from you — your feedback is important to me and I read all of it. If you enjoyed the podcast, I hope you'll give us 5 stars. I'll be sure to thank you via email. If not, let me know what you think we should do differently. Don't forget to hit "subscribe" so you'll receive notifications about guest interviews and other topics that drop every Tuesday.
Live well, Shana