Season 4: For the Back of the Room • July 5, 2022
PERSEVERANCE, TRANSPARENCY, AND BREAKING THE GLASS CEILING.
Shana Cosgrove talks to Megan Jaffer, CEO of IAI Strategies LLC and host of the Iron Butterfly Podcast.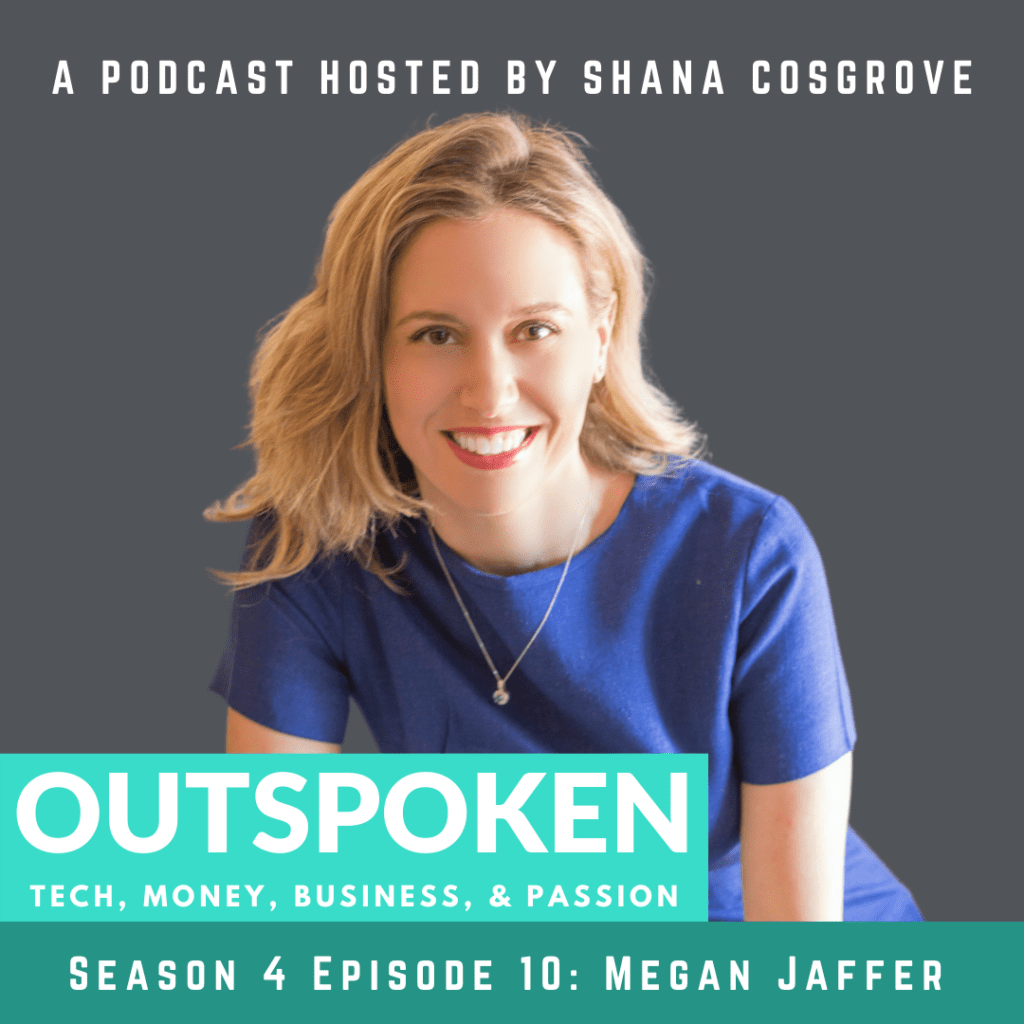 In this episode of The Outspoken Podcast, host Shana Cosgrove talks to Megan Jaffer, CEO of IAI Strategies LLC and host of the Iron Butterfly Podcast. Megan discusses the origins of her desire to get into the intelligence community and how she persevered until she got what she wanted. We hear the importance of Ellen McCarthy, INSA, and the many women along her professional journey that boosted her up. Megan opens up about the Iron Butterfly Podcast, revealing how it started and what her missions are with the show. Lastly, we hear Megan's favorite book, her surprising fact, and some bonus advice on how to have a successful marriage with two professionally-driven partners.
QUOTES
"We wanted this to be a podcast where we were telling the real stories of women in intelligence. And it's not just about what they do, but it's the fascinating stories about who they are as women." – Megan Jaffer [28:59]
"Part of the reason that AWIC has been successful is that not everybody grows up in this area, around this community. I'm one of those people that had no touch points, I didn't know anyone." – Megan Jaffer [33:36]
"I have always been taught that you have to tell people how you feel when you love them and you appreciate them – and if they've done something well or they've touched your heart in some way. And so, I try to do that in my life. " – Megan Jaffer [39:59]
TIMESTAMPS 
[00:04] Intro
[01:31] Meeting Megan
[04:01] The TIM Collective
[08:28] Ellen McCarthy
[13:13] Discussing INSA
[14:19] Megan's Desire to Enter the Intelligence Community
[19:12] Where Megan Gets Her Perseverance
[25:38] Starting the Iron Butterfly Podcast
[33:36] The Importance of Accessibility in the Intelligence Community
[36:13] Getting Over Nervousness Around Senior Women
[40:51] Dream Sessions
[46:02] Advice Given and Advice Received
[49:36] Megan's Book Recommendation
[51:01] Megan's Surprising Fact
[51:53] Making Marriage Work with Two Professionally-Driven People
[56:54] Outro
RESOURCES
RELEVANT LINKS
I'd love to hear from you — your feedback is important to me and I read all of it. If you enjoyed the podcast, I hope you'll give us 5 stars. I'll be sure to thank you via email. If not, let me know what you think we should do differently. Don't forget to hit "subscribe" so you'll receive notifications about guest interviews and other topics that drop every Tuesday.
Live well, Shana