Season 4: For the Back of the Room • May 3, 2022
Entrepreneurship, Standing Out, and Empowering Small Businesses.
Host Shana Cosgrove talks to Robb Wong, CEO and Founder of Fedsolve.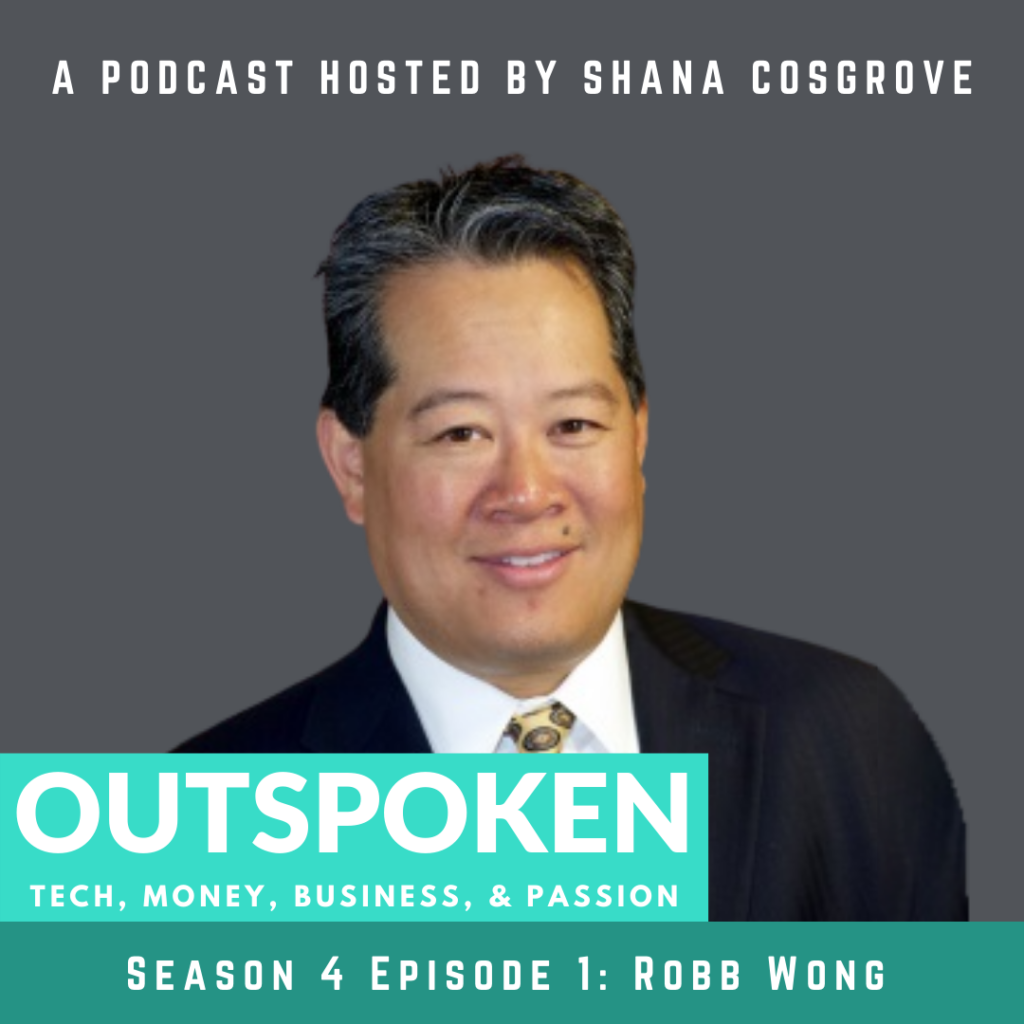 In this episode of The Outspoken Podcast, host Shana Cosgrove talks to Robb Wong, CEO and Founder of Fedsolve. Robb discusses his lifelong entrepreneurial drive starting at 11 years old, stringing tennis rackets with his brother, and holding 7 part-time jobs in college. He also talks about his email hack to avoid spam and whether or not he feels like a Government Contracting Celebrity. Robb's experience with HUBZone and the SBA has had a major impact on small businesses in America, and he discusses that path and the potential effect of recent developments. Lastly, Robb recommends a book that you may not have read in a while!
QUOTES
"I would say this about leadership in general. I practice this. I try to practice this at home. What I say to my daughter is, I'm trying to be the dad that you expect me to be, not the dad that I want to be. And so, I say that to my wife about me trying to be a husband. And I tried to apply that to SBA. I tried to be the type of leader that other people expected me to be, not the person that I wanted to be." – Robb Wong [26:59]
"What's going to happen is if you continue to try to help people, they're going to come to you and they're going to say, Shana, I know this isn't what NYLA does, but we have this other problem. And if you answer and honestly say, listen, I'm not the expert in that, but I can figure it out. That's how you, that's how you evolve, that's how you change as a company. And you have to be open for change." – Robb Wong [50:50]
"I love helping small businesses who can help our government because I think it makes for a stronger government. And I devoted my life to government service. I was inside, I was outside. I was inside again, now I'm outside, but I think if we have a strong government then we have a strong country." – Robb Wong [54:00]
TIMESTAMPS 
[00:04] Intro
[02:12] Meet Robb Wong
[04:09] Robb's College Experience
[05:22] Ursinus College
[07:57] Born an Entrepreneur
[12:52] Robb's Email Address Hack
[15:02] Robb's Experience with Race-Based Assumptions
[20:37] The Advantages of Living in America
[22:34] Does Robb feel like a Government Contracting Celebrity?
[25:43] Robb's Experience with HUBZone and the SBA
[34:44] Recent Developments with the SBA and Category Management
[37:38] It Comes Down to Business Development
[41:47] Lowest Price Technically Acceptable
[45:00] Role of the Contracting Officer
[48:32] The Personal Aspect of Government Contracting
[50:03] Advice Robb Would Give to his Younger Self
[51:20] Robb's Interest in Curious George
[51:53] Robb's Surprising Fact
[54:44] Outro
RESOURCES
RELEVANT LINKS
I'd love to hear from you — your feedback is important to me and I read all of it. If you enjoyed the podcast, I hope you'll give us 5 stars. I'll be sure to thank you via email. If not, let me know what you think we should do differently. Don't forget to hit "subscribe" so you'll receive notifications about guest interviews and other topics that drop every Tuesday.
Live well, Shana