Season 4: For the Back of the Room • July 12, 2022
PHILANTHROPY, CYBERSECURITY, AND BRING THE ENERGY.
Shana Cosgrove talks to Tasha Cornish, Executive Director at Cybersecurity Association of Maryland, Inc. (CAMI).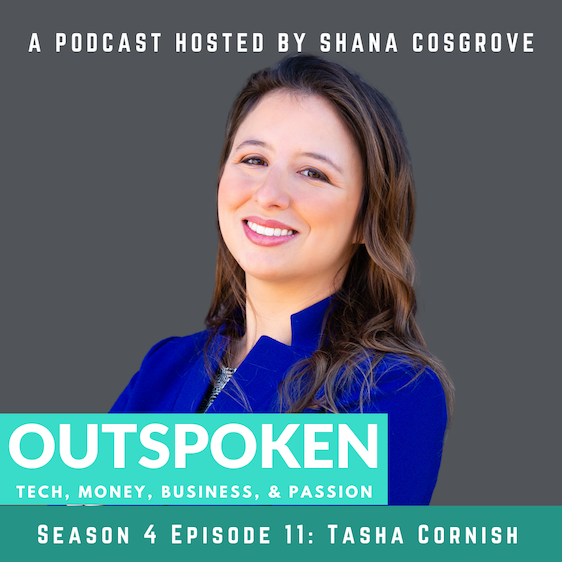 In this episode of The Outspoken Podcast, host Shana Cosgrove talks to Tasha Cornish, Executive Director at Cybersecurity Association of Maryland, Inc. (CAMI). Tasha discusses how her work has helped improve the nation, from running a human services nonprofit during COVID to defending the country from cyber attacks during the Russian invasion of Ukraine. She also explains why cybersecurity is important for every business and why information truly is power within the IT sector. Tasha gives advice to those entering the world of cybersecurity and reveals what advice she's seeking out for where she's at in her own career. Lastly, Tasha tells us about her adventure journey from snowboarding, scuba diving, running marathons, and possibly even CISSP.
QUOTES
"There's a very interesting debate when it comes to the human factor of cybersecurity. It's a combination of training your staff but also making sure that your networks are not over privileging your staff, that they have access to all these systems they don't need to access. […] Which gets a lot of pushback of course from people who are trying to work hard and be productive, but it does help protect our systems" – Tasha Cornish [29:13]

"Like anything else, if you don't have the people and processes in place to use these [cybersecurity] products, they're kind of useless." – Tasha Cornish [30:20]

"[Local governments] are a huge target […] It's a lot, for schools and hospitals really, so we are out here trying to be a good source of information. And those folks are understaffed often, their security teams are strapped " – Tasha Cornish [33:42]
TIMESTAMPS 
[00:04] Intro

[01:31] Meet Tasha Cornish

[03:38] Tasha's Work at a Nonprofit During COVID

[04:32] How Tasha Started on her Career Path

[08:56] Tasha's Experience During COVID

[10:15] Starting at CAMI

[14:04] CAMI's Mission

[16:24] Size, Scale, and Impact of CAMI

[24:32] CAMI's Cybersecurity Role in the Russo-Ukrainian War

[25:56] CISA

[32:00] CAMI's Goals for 2022

[33:14] Cybersecurity Bills in the Maryland House

[38:06] Choosing Priorities in the Cybersecurity

[39:04] CAMI's Board

[43:51] Advice for People Getting Started

[45:36] WiCyS

[49:40] Tasha's Book Recommendation

[50:40] Tasha's Surprising Fact

[52:27] Outro
RESOURCES
RELEVANT LINKS
I'd love to hear from you — your feedback is important to me and I read all of it. If you enjoyed the podcast, I hope you'll give us 5 stars. I'll be sure to thank you via email. If not, let me know what you think we should do differently. Don't forget to hit "subscribe" so you'll receive notifications about guest interviews and other topics that drop every Tuesday.
Live well, Shana