Season 5: From the Rafters • November 15, 2022
Collaborating, Gaming, and the STEM Talent Pipeline.
Shana Cosgrove talks to Cynthia Jenkins, founder and CMO of Skillsgapp, maker of Skillionaire Games.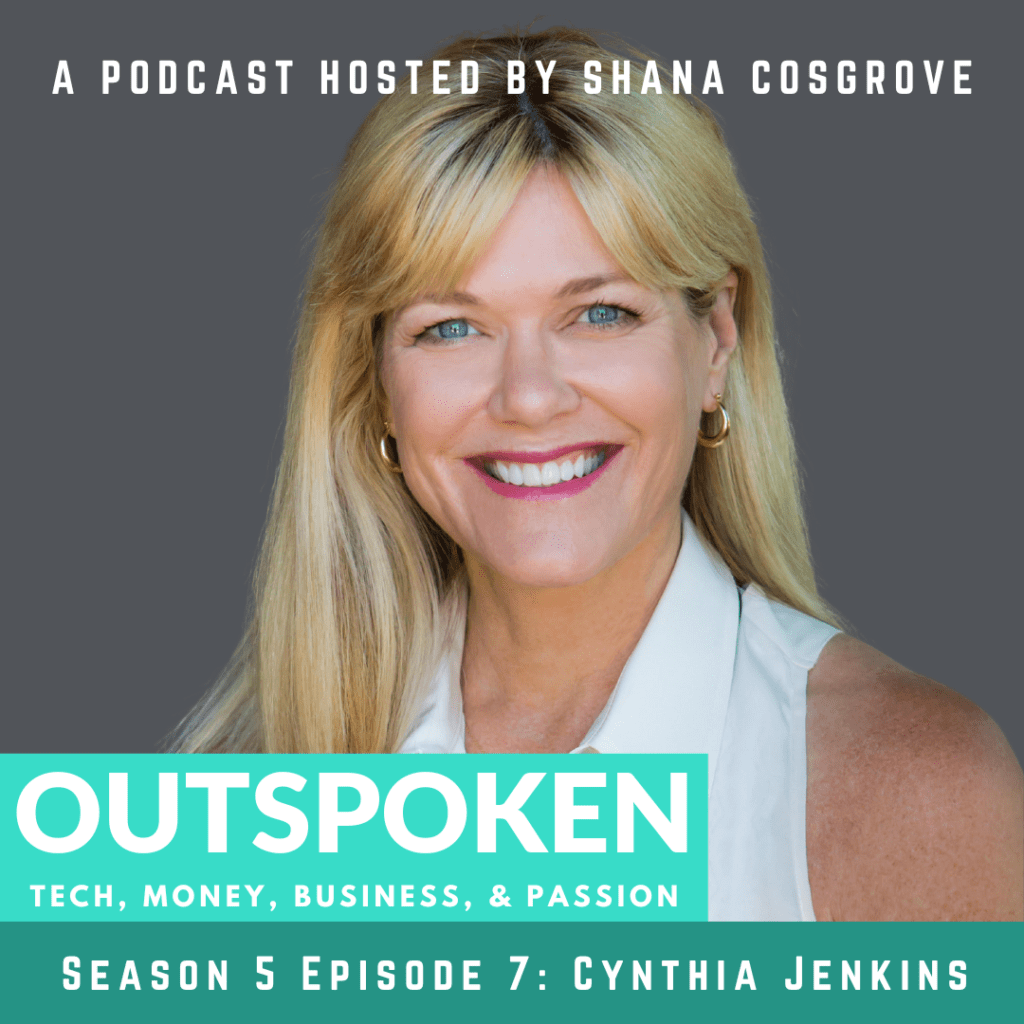 In this episode of The Outspoken Podcast, host Shana Cosgrove talks to Cynthia Jenkins, founder and CMO of Skillsgapp, maker of Skillionaire Games. Cynthia describes how her company is developing video games that school districts and industry leaders can use to teach middle and high school students about STEM careers in their local communities. Cynthia describes her training in journalism and advertising as well as her mid-career transition—together with collaborator Tina Zwolenski—from marketing to the world of gaming. Shana and Cynthia talk about the need for soft skills in every field and the increasing recognition that reaching and teaching kids earlier about opportunities in STEM is crucial to filling an anticipated 700,000 new tech jobs with industry and government employers. Cynthia says that, yes, sometimes you actually should go to bed angry, and she tells Shana a surprising story about a chance meeting with The Rolling Stones' Ronnie Wood.
QUOTES
"It's a testament to this generation. They want to advocate for their own future, and they don't want you to hide it." – Cynthia Jenkins [27:01]

"You spend a lot of time looking at what's behind you, what's behind you, what's behind you. And it's that pivot, looking right next to you all the way to the front, and that runway ahead of you." – Cynthia Jenkins [32:57] 

"You shouldn't have to rely on trust. Get everything in writing and legal [. . . ] Get it really buttoned up. And then you both are safe, you've already made the hard decisions, and then you just get to be partners." – Cynthia Jenkins [36:45]
TIMESTAMPS 
[00:04] Intro

[01:54] Meet Cynthia Jenkins

[04:19] Connecting Kids to Life-Changing Careers Though Game-Changing Play

[09:50] From Marketing to Making

[13:44] Bringing Games to Schools and Industry

[16:06] Getting Kids in the Game as Testers and as Players

[19:18] Long Hours and Steep Learning Curves

[24:14] Instructional Design for the Smartphone Generation

[28:17] Having Fun at Work, Being the Funniest in the Room

[32:11] Reaching and Teaching Kids Earlier

[34:36] Collaborating with Tina Zwolenski in Zwo and Beyond

[36:46] First, Get It in Writing

[39:54] Sleep on a Problem, Wake up with a Fresh Perspective

[41:06] Doing Hard Things and Inspiring a New Generation 

[46:39] On Kissing Ron Wood

[51:50] Outro
RESOURCES
RELEVANT LINKS
I'd love to hear from you — your feedback is important to me and I read all of it. If you enjoyed the podcast, I hope you'll give us 5 stars. I'll be sure to thank you via email. If not, let me know what you think we should do differently. Don't forget to hit "subscribe" so you'll receive notifications about guest interviews and other topics that drop every Tuesday.
Live well, Shana