Season 5: From the Rafters • November 1, 2022
Balancing, Pivoting, and Innovating Through Diversity.
Shana Cosgrove talks to Jennifer Walsmith, Vice President of Cyber and Information Solutions at Northrop Grumman.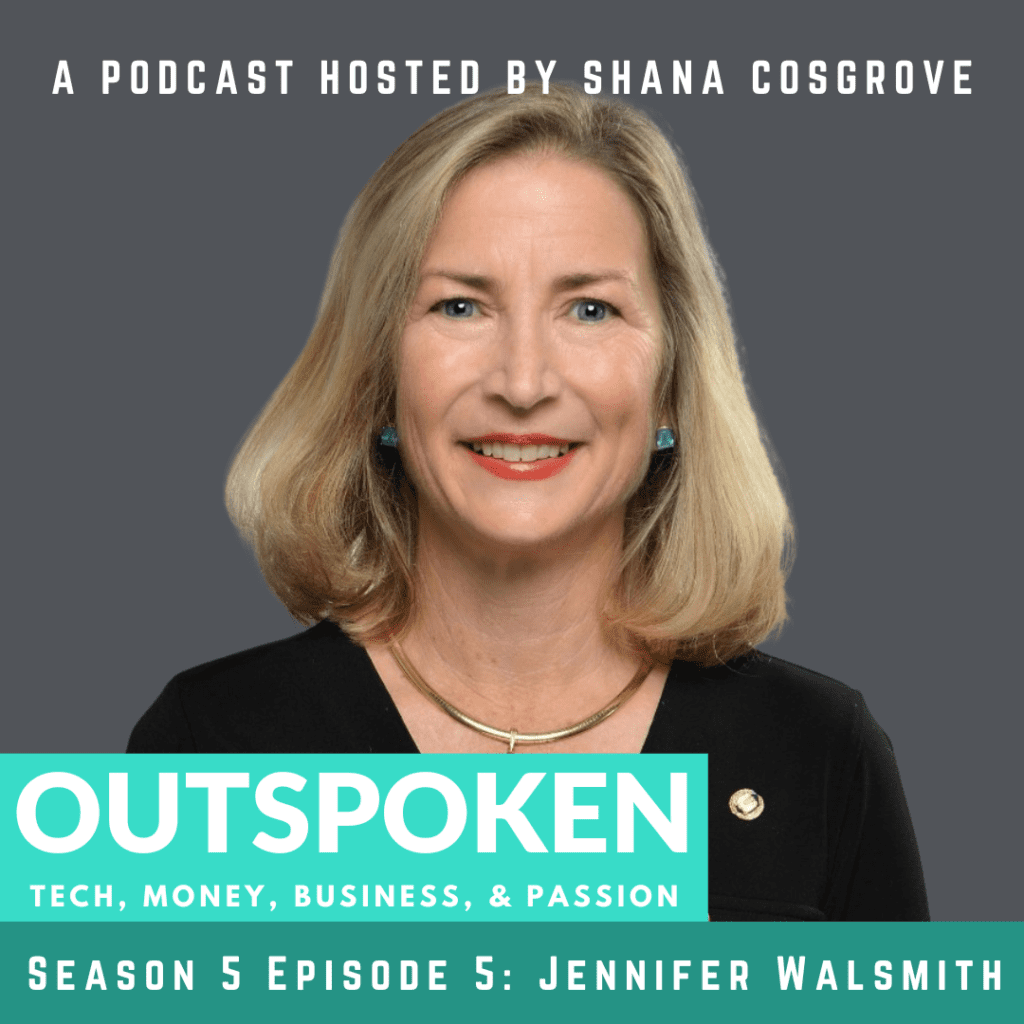 In this episode of The Outspoken Podcast, host Shana Cosgrove talks to Jennifer Walsmith, Vice President of Cyber and Information Solutions at Northrop Grumman. Shana and Jennifer talk about the capacity for remote work to broaden access to decision-makers and increase organizational agility. Jennifer talks about her 20+ years at NSA—from a GS-2 to being the Senior Acquisition Executive (SAE)—and her experiences earning a degree in computer science, leaving government for a stint in industry, and prioritizing her family all along the way. She describes her role in relation to Northrop Grumman's Global Ballistic Strategic Deterrent contract, developing and then seeing through their pivot to cyber solutions. Lastly, Jennifer tells Shana why she originally picked computer science over engineering and describes her surprise when a recent Meyers-Briggs test indicated that she may not be as extroverted as she thought.
QUOTES
"As you go through a major change, they used to talk about it in the terms of sailing [ . . . ] When you decide to tack to get better wind, it's so important that you not get caught in what is called irons, which is that lull as you are trying to move to the new wind. [ . . .] Races are won or lost not on the decision to tack, but the execution of that move." – Jennifer Walsmith [12:48]

"Trust is one of the most important things that you have to build. Trust is really the thing that comes

after

you've built all the relationships." – Jennifer Walsmith [36:47]

"I'm not convinced that more hours is more effective. You have to keep getting more effective with your time. You have to think about how you empower others around you, how you leverage that team. [ . . . ] It doesn't have to be the 80-hour work week, and it doesn't have to be the way we've always done it." – Jennifer Walsmith [43:54]
TIMESTAMPS
[00:04] Intro

[01:56] Meet Jennifer Walsmith

[07:02] Bridging Intelligence and Defense at Northrop Grumman

[08:25] On the Cyber Segment of Global Ballistic Strategic Deterrent (GBSD)

[11:24] Strategizing—and Executing—the Pivot to Cyber Solutions

[15:51] NSA to SAIC, and Back to NSA

[23:10] High Energy, the Drive to Achieve, and Following Family Passions

[25:31] Choosing Computer Science over Engineering

[30:03] Seven Jobs at NSA, All the Way to SAE (Senior Acquisition Executive)

[36:47] Trust is the Key to Building a Strong Team

[39:29] Being a Woman in Senior Leadership 

[43:40] Finding New Models for Leadership

[46:39] Diversity of Thought Delivers Innovative Solutions

[51:08] Be Brave, Have Courage, and Find a Job that Inspires You

[56:04] Outro
RESOURCES
RELEVANT LINKS
I'd love to hear from you — your feedback is important to me and I read all of it. If you enjoyed the podcast, I hope you'll give us 5 stars. I'll be sure to thank you via email. If not, let me know what you think we should do differently. Don't forget to hit "subscribe" so you'll receive notifications about guest interviews and other topics that drop every Tuesday.
Live well, Shana