Season 3: I'm Speaking • November 23, 2021
Remote Collaboration, Tech Efficiency, and Career Journeys.
Shana Cosgrove talks to Lauren Lockwood, Founder & Principal, Bloom Works LLC, and Emily Wright-Moore, Principal at Bloom Works LLC.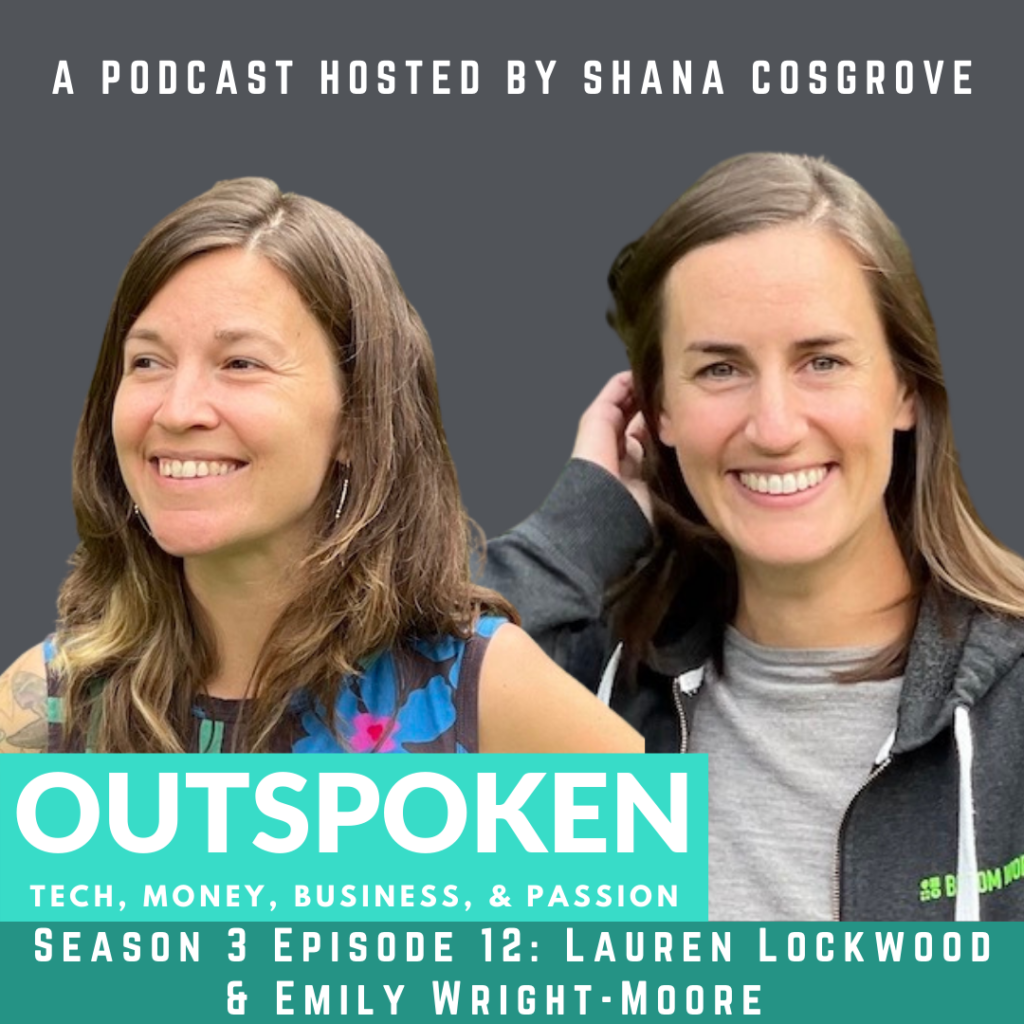 In this episode of The Outspoken Podcast, host Shana Cosgrove talks to Lauren Lockwood, Founder & Principal, Bloom Works LLC, and Emily Wright-Moore, Principal at Bloom Works LLC. Lauren and Emily give their insight on the very real effects of outdated vital government services and what can be done to mitigate those effects. They also discuss their very different paths that led them to starting Bloom and why following their passion has been so powerful. Lauren and Emily also reveal their favorite projects with Bloom and how those projects reflect Bloom's mission. Finally, we hear what they wanted to be when they grew up, combating ageism and sexism within tech, and their advice to their younger selves!
QUOTES
"One of my favorite moments in a meeting was early on, working with the state. Me, Emily, and this other woman show up for our first meeting with their team to redesign some of their systems. The people from this agency walk in and the Commissioner is a woman, her deputy is a woman… they sit down with us, and they were so relieved that we weren't just a team of dudes walking into the room." – Lauren Lockwood [50:10]
"I feel like we default to this specialist mindset. And I think being a generalist is pretty, pretty great. I like knowing a lot of things and I like pulling in a lot of past jobs and past skills. So I feel like I would just stop worrying about that. Like, it's fine" – Emily Wright-Moore [52:33]
"Switching careers is not a failure, I don't think. I think it is like you learned a lot and it was good for that time, but not necessarily forever. Think of this time as an exploratory time, rather than a first step on a journey." – Lauren Lockwood [53:14]
TIMESTAMPS
[00:04] Intro
[01:43] Meet Lauren Lockwood and Emily Wright-Moore
[02:11] How Lauren and Emily met
[03:04] What is Digital Transformation?
[04:57] The Cost of Inefficiencies in Vital Services
[05:26] Updating Outdated Technology
[08:28] What is Bloom Works?
[10:04] Bloom's Tech Stack
[11:30] Bloom's Ideal Sample Size of Users
[12:51] User Groups
[15:45] Lauren's Favorite Bloom Projects
[18:30] Emily's Favorite Bloom Projects
[19:57] Sharing Bloom's Work with the World
[21:00] Starting Bloom Works
[21:58] Lauren's Experience after Harvard
[26:14] Lauren's Unique Career Path
[29:09] Lauren's Work with the Mayor of Boston
[30:53] Redesigning Boston.gov
[31:30] What Lauren Wanted to be as a Kid
[33:31] What Emily Wanted to be as a Kid
[36:39] Emily's Experience at Parsons School of Design
[39:46] Correcting Misperceptions in the Industry
[41:35] What is United States Digital Service
[43:56] Emily's Journey after her Tour
[44:27] Lauren's Work Background
[46:31] Combating Ageism within Tech
[50:04] Sexism in Tech
[52:17] Advice to their Younger Selves
[54:01] Lauren's Book Club
[54:37] Final Thoughts
[57:44] Outro
RESOURCES
RELEVANT LINKS
I'd love to hear from you — your feedback is important to me and I read all of it. If you enjoyed the podcast, I hope you'll give us 5 stars. I'll be sure to thank you via email. If not, let me know what you think we should do differently. Don't forget to hit "subscribe" so you'll receive notifications about guest interviews and other topics that drop every Tuesday.
Live well, Shana