Season 3: I'm Speaking • November 2, 2021
IMPACT, AIR FORCE, AND INFORMATION TECHNOLOGY.
In this episode of The Outspoken Podcast, host Shana Cosgrove talks to Roy White, a leader in the world of Information Technology.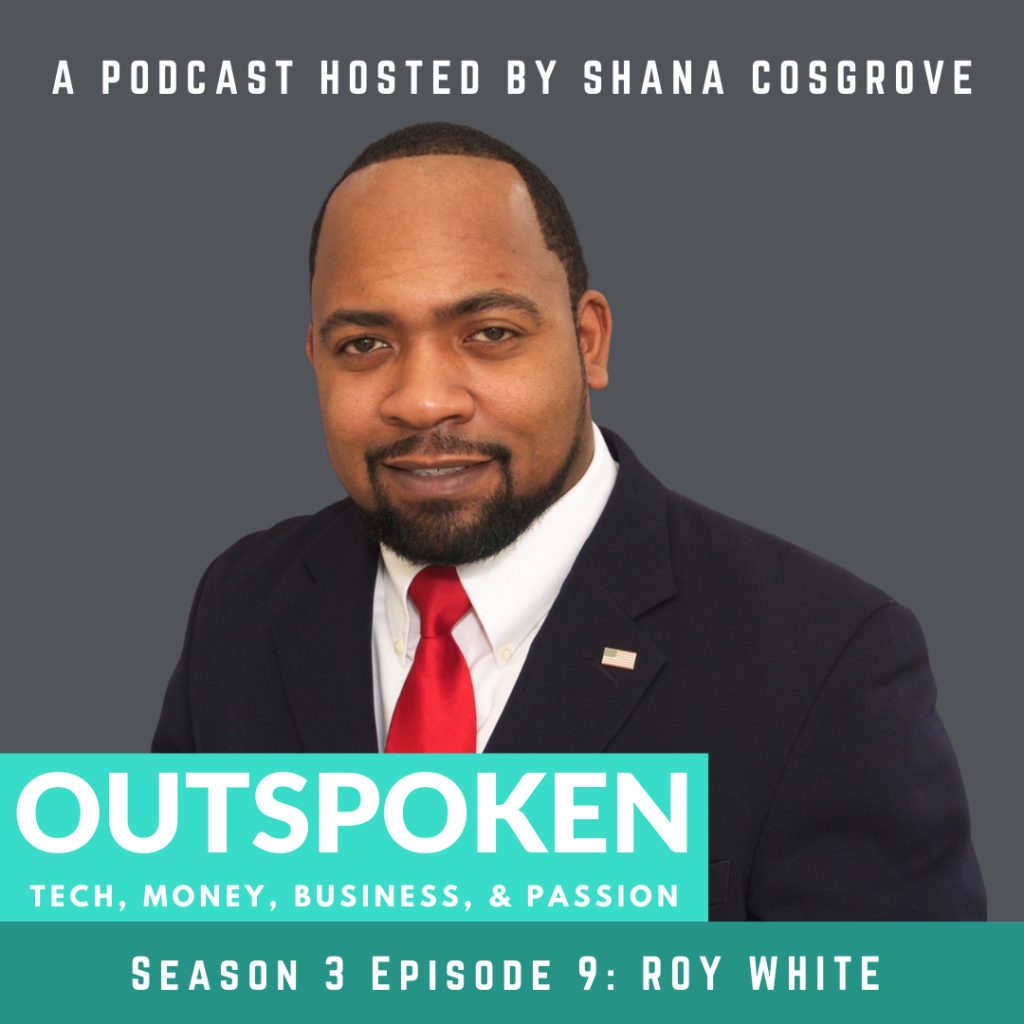 In this episode of The Outspoken Podcast, host Shana Cosgrove talks to Roy White, a leader in the world of Information Technology. Roy's upbringing, be it tough, was no match for the success he would have throughout his future. Roy speaks on all he's accomplished, including joining The Air Force, obtaining experience in many senior information technology positions, and being a positive mentor to many, including his children. As someone who has been very driven since his childhood, Roy goes into the life experiences that drive him even further and make him the entrepreneur he is today. Roy also talks about what it's like having his busy schedule all while being a good husband and father. Finally, we hear Roy's secret to success, his "why," and his real thoughts about public speaking!
QUOTES
"I did have a lot of trauma. I dealt with a lot of things, but I can say I persevered. A lot of my drive is based upon not having to go back or not wanting to go back to dealing with that and protecting my kids from dealing with whatever I dealt with." – Roy [15:26]
"A lot of the underclassmen started teasing me about "well what are you going to do Roy?… Because I never really voiced my plans of what I was wanting to do and things like that. And I said 'Well one day I'm going to own my own business' and everybody just busted out laughing, even the coaches and all of that. And so, that's been my fuel for years… To kind of really push me toward business and entrepreneurship and things like that." – Roy [18:54]
"[The secret to success is] being relentless. And understanding that there is no escalator, there's no elevator, you know, there's no catapult or anything like that to the top. You have to take the stairs." – Roy [34:27]
TIMESTAMPS
[00:04] Intro
[01:33] Meet Roy
[03:52] Roy's Schedule and Working Out
[06:58] Roy and Shana Meeting
[09:11] Golf
[12:03] Roy's Wife
[13:15] Managing Services
[14:30] Growing Up
[15:43] Ending Up in IT
[19:37] Entrepreneurship
[20:47] Air Force and Losing Scholarship
[24:26] Marriage and Social Life
[25:40] Party Promoter
[27:55] Consortium
[31:56] Wife and Children
[34:24] Secret to Success
[36:18] Year Plans
[37:18] What Roy Would Do Differently
[38:26] Roy's Reads and Inky Johnson
[42:50] Mentors
[43:50] Impact, Opposition, and the "Why"
[47:04] Roy's Surprising Fact
[50:08] Roy's Ask
[52:23] Outro
RESOURCES
RELEVANT LINKS
I'd love to hear from you — your feedback is important to me and I read all of it. If you enjoyed the podcast, I hope you'll give us 5 stars. I'll be sure to thank you via email. If not, let me know what you think we should do differently. Don't forget to hit "subscribe" so you'll receive notifications about guest interviews and other topics that drop every Tuesday.
Live well, Shana