Season 6: Can You Hear Me Now • May 23, 2023
Engineering, Creativity, and Confidence.
Shana Cosgrove talks to Latisha (Tish) Rourke, Vice President, Cyber & Intelligence & General Manager at Lockheed Martin.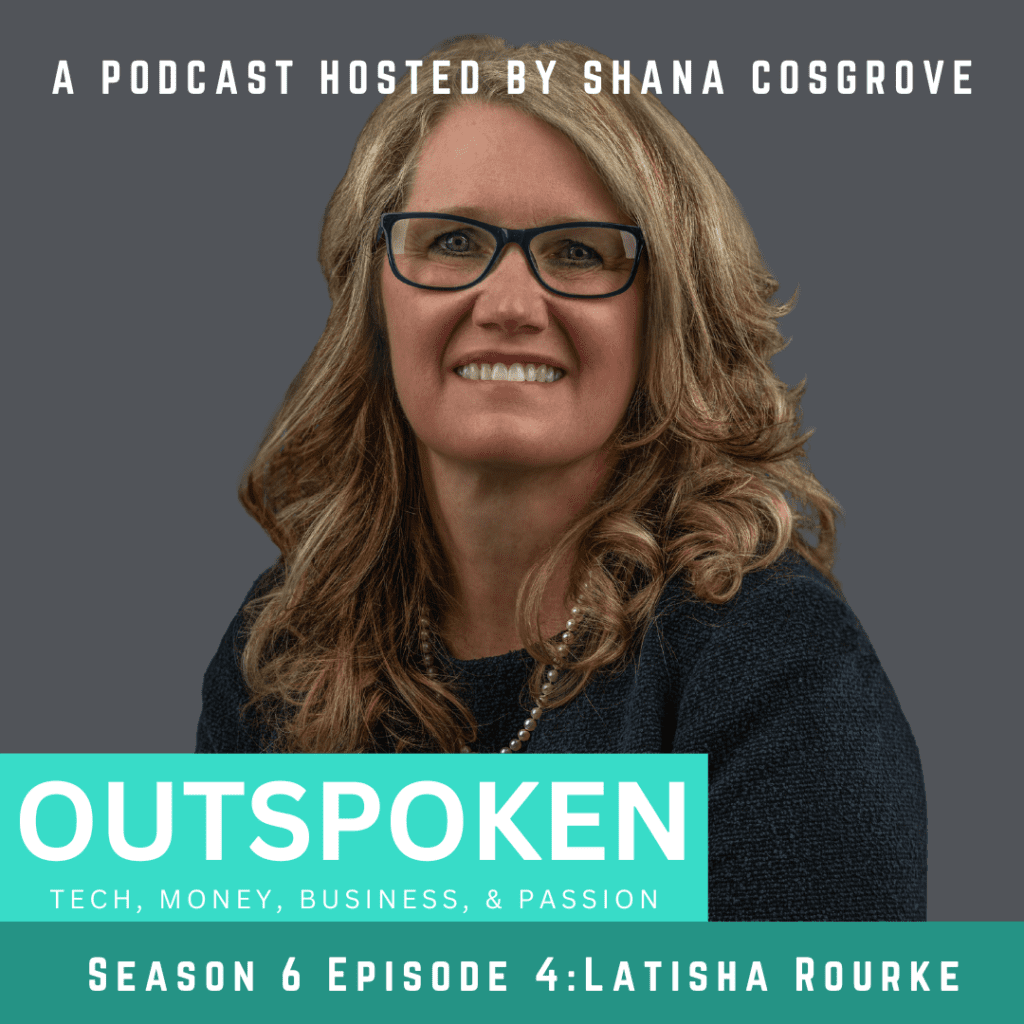 In this episode of The Outspoken Podcast, host Shana Cosgrove talks to Latisha (Tish) Rourke, Vice President, Cyber & Intelligence & General Manager at Lockheed Martin. Tish tells Shana about her leadership role at Lockheed Martin and offers good advice about selecting in for challenging work. She describes being "a unicorn"—a woman studying electrical engineering—and explains what mentoring looks like when you're in a field that's still only 20% women. Tish talks about her long and varied career at Lockheed Martin, where she has worked dockside on submarine systems, in business development, as a program manager, as a systems engineer, and then even developing software with assembly code. She shares with Shana her passions for reading Tom Clancy and binge-watching Jack Ryan and explains why as a person working in a team-driven industry she turns to the lost art of quilting when she really wants a solo project.
"I encourage people to take risks, to take chances. You've proven yourself up to this point, and your organization's going to believe in you. And if it doesn't work out, hey, we're a big organization and we're going to find another role for you." – Latisha Rourke [09:00]

"In school you're rewarded for doing the job by yourself and solidifying that knowledge individually. In industry you're rewarded for getting something done efficiently. And if somebody has already solved 50% of your problem and you get that solution from them […] and you get it done in half the time, you're rewarded for that."- Latisha Rourke [17:22]

"Don't just think about the next job. Have a much larger, longer view so that you make sure that the steps that you take in your career path don't derail you from getting to the job you ultimately want." – Latisha Rourke [36:54]
[00:04] Intro

[01:34] Meet Tish Rourke

[04:02] Moving up and Moving over from Electronic Warfare to Cyber & Intelligence

[07:52] Learn to "Self-Select in" for Leadership Roles

[12:09] Surround Yourself with People Who Cover Your Gaps

[13:40] In the 20%: Being a Woman Studying Electrical Engineering 

[17:04] Problems, Problem Sets, and Learning to Work with a Team

[20:34] From College to a Career at Lockheed Martin

[22:04] How the Customer Really Is Right 

[25:38] Finding Breadth of Opportunity within the Organization

[28:42] Building Skills in a Stretch Position

[32:51] Mentoring and the Value of Mid-Course Corrections

[35:58] Advice to Young Engineers

[37:47] Be Calm and Confident, But Recognize You Might Be Wrong

[42:28] On Crucial Conversations in the Office and at Home

[48:26] Reaching out to Students: Lockheed Martin's CYBERQUEST and CodeQuest

[52:39] Outro
I'd love to hear from you — your feedback is important to me and I read all of it. If you enjoyed the podcast, I hope you'll give us 5 stars. I'll be sure to thank you via email. If not, let me know what you think we should do differently. Don't forget to hit "subscribe" so you'll receive notifications about guest interviews and other topics that drop every Tuesday.
Live well, Shana