Season 5 : From the Rafters • October 4, 2022
SEEING ABUNDANCE, SUPPORTING WOMEN, AND SHIFTING THE NARRATIVE.
Shana Cosgrove talks to Nic Cober, Esq., Principal Managing Partner of CJR and founder of The BOW Collective.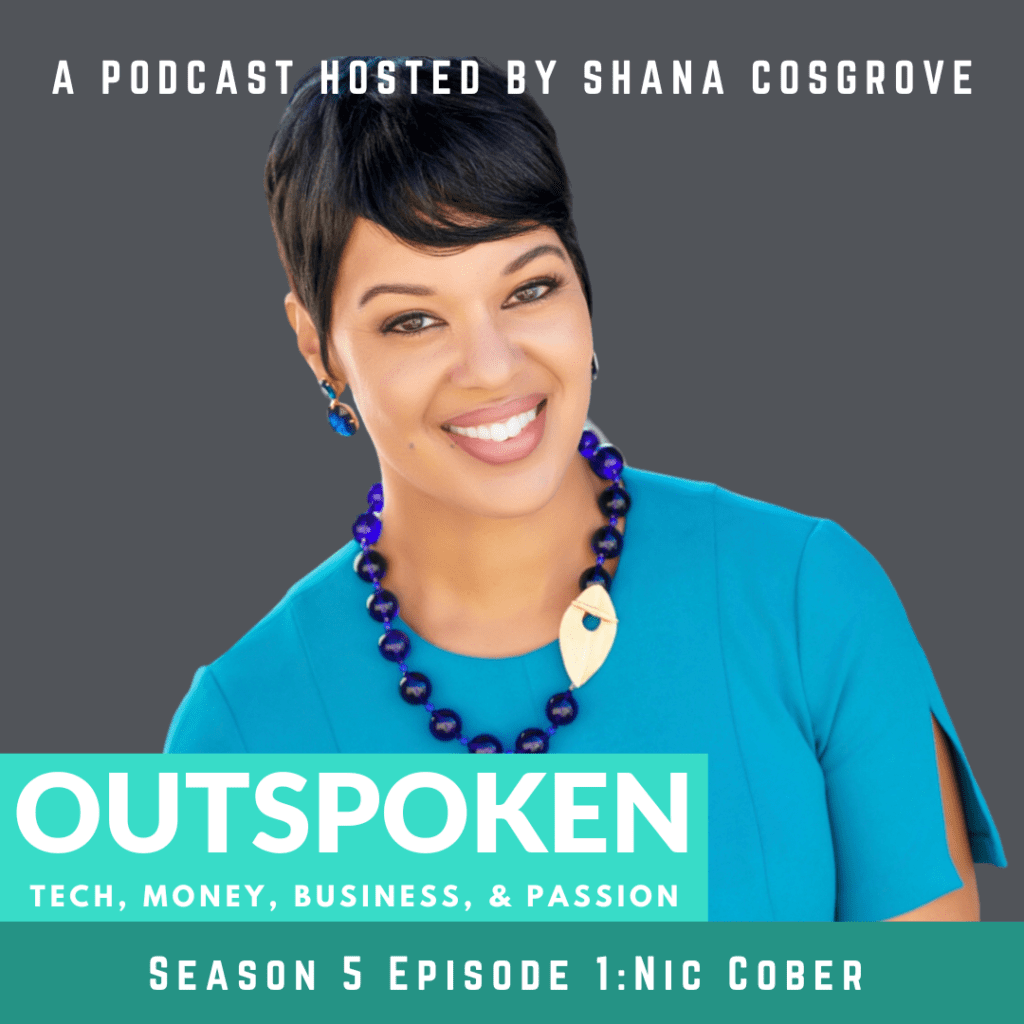 In this episode of The Outspoken Podcast, host Shana Cosgrove talks to Nic Cober, Esq., Principal Managing Partner of CJR and founder of The BOW Collective. Nic describes her journey to and through serial entrepreneurship, from her unexpected first small business venture as owner of a hair salon and day spa to her current role as cofounder of a multi-million dollar legal and consulting firm based in Washington, DC. She talks about the joy she finds in working directly with small businesses and consulting with banks, municipalities, and others to support small-business owners. She shares how her new nonprofit venture, the Black Owner and Women's Collective, came to be and how she got to ring the bell at the NYSE. Nic encourages women to support women-owned businesses and to realize that partnerships are power, and she has ideas for what to read even when you're tired of reading.
QUOTES 
"What I realized and what I think has been my forever light bulb moment is

whatever you had you can have again

. Because I had the intellectual property to do it the first time. And so: OK, you've lost that, well, what did you do right? What relationships did you make? How can you repurpose your gifts in order to get it again?" – Nic Cober [13:35] 

"I don't see a lot of married CEO women that are able to have tremendous success personally and professionally without a truly supportive person. And when you own a business together, it stands to reason that it works because you both want it to work. You are both aligned. [. . .] We are both alpha personalities, but we do the beta. We do the beta dance." – Nic Cober [35:16] 

"Partnerships are the best key to success. It's people. [. . .] If you don't have a collaborative nature on how you can make your business a win-win and triangulate that, you won't be successful. But if you do, you will always have advocates and allies out there that will come to your aid when you need it the most." – Nic Cober [46:07]
TIMESTAMPS 
[00:04] Intro

[01:55] Meet Nic Cober

[03:25] From Practicing Law to Owning a Small Business

[11:50] From Running a Small Business to Advising Small Business Owners

[14:22] Dealing with Adversity, Getting Past Fears

[19:25] Consulting with Small Businesses

[24.52] Narrowing vs. Broadening Your Business's Appeal

[26:40] On Partnerships, Relationships, and Inspiring Parents

[33:40] Spouses Who Work Together and Marriages That Work

[38:38] The BOW (Black Owner & Women's) Collective

[46:07] Partnerships Are the Secret to Success

[51:31] On What to Read Even When You're Too Tired to Read

[53:40] Women Supporting Women and Women-Owned Businesses

[56:04] Outro
RESOURCES
RELEVANT LINKS
I'd love to hear from you — your feedback is important to me and I read all of it. If you enjoyed the podcast, I hope you'll give us 5 stars. I'll be sure to thank you via email. If not, let me know what you think we should do differently. Don't forget to hit "subscribe" so you'll receive notifications about guest interviews and other topics that drop every Tuesday.
Live well, Shana